Localisation
Tiahura is located on the North coast of Moorea, in the Society archipelago. 
17°28.940'S/149°53.985'W (conversion DM/DMS)
The thermometers are distributed along the radial (at -1 to -50m depth, see positionning schema below).
The multiparameter probe SB16 is at -25 mètres and the wave probe is at -35m.

Programs
The Polynesia Mana since 1998 (orange pin on the map)
The MPA from PGEM since 2004 with the MPA of Tiahura (black dot on the map)
The Temporal Layout of Populations and Communities or ATPP since 1990
The Radial of Tiahura since 1971
The Coral recruits survey since 2000 (yellow dots on the map)
The nutrients analysis since 2008
Year
Rugosity parallel
Rugosity perpendicular
Height SD parallel
Height SD perpendicular
2021
1.7002 (sd 0.0721)
1.6048(sd 0.0549)
0.1917
0.1001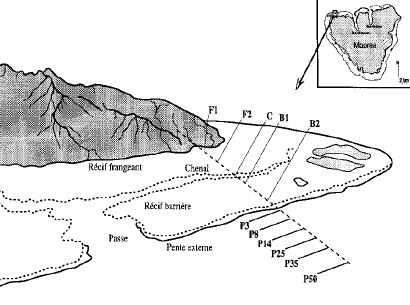 Positionning schema of the 9 thermometers along the Radial of Tiahura at Moorea
F1 : fringing reef
C : channel
B1 : barrier reef
P3/8/14/25/35/50 : outer slope. Figures represente the depth.
F2 et B2 are no longer used
Quadrat n°10 on the outer slope of Moorea Tiahura, in 2015/CRIOBE
3D reconstruction of the site (2021)/CRIOBE
---
Historique Tiahura (Moorea)
Données brutes de suivi des équipements. Les dates affichées correspondent à la date de modification du fichier informatique en laboratoire.
Date
Departure
Arrival
Instrument
2012-10-25 13:10:48
CRIOBE > Tiahura
CRIOBE > Moorea
SBE43 Oxygen 1609
2012-10-25 13:42:15
CRIOBE > Tiahura
CRIOBE > Moorea
SBE18 pH 0664
2013-02-14 20:41:56
CRIOBE > Tiahura
CRIOBE > Moorea
SBE16plusV2 6158
2013-03-04 14:35:18
CRIOBE > Tiahura
CRIOBE > Moorea
SBE18 pH 0784
2013-03-04 14:36:51
CRIOBE > Tiahura
CRIOBE > Moorea
SBE43 Oxygen 1868
2013-03-20 15:05:26
CRIOBE > Moorea
CRIOBE > Tiahura
SBE43 Oxygen 1611
2013-03-20 15:05:42
CRIOBE > Moorea
CRIOBE > Tiahura
SBE18 pH 0655
2013-03-20 15:06:10
CRIOBE > Moorea
CRIOBE > Tiahura
SBE16plusV2 6158
2013-04-03 09:01:51
CRIOBE > Moorea
CRIOBE > Tiahura
SBE26 houlographe 1280
2013-08-20 14:26:10
CRIOBE > Tiahura
CRIOBE > Moorea
FLNTUS fluo turb 1948
2013-08-20 14:27:15
CRIOBE > Tiahura
CRIOBE > Moorea
SBE16plusV2 6158
2013-08-20 14:27:28
CRIOBE > Tiahura
CRIOBE > Moorea
SBE18 pH 0655
2013-08-20 14:27:49
CRIOBE > Tiahura
CRIOBE > Moorea
SBE43 Oxygen 1611
2013-08-20 14:28:17
CRIOBE > Tiahura
CRIOBE > Moorea
SBE5P Pompe 4997
2013-08-26 15:31:13
CRIOBE > Moorea
CRIOBE > Tiahura
SBE16plusV2 6158
2013-08-26 15:33:01
CRIOBE > Tiahura
CRIOBE > Moorea
SBE16plusV2 6158
2013-10-18 11:50:57
CRIOBE > Tiahura
CRIOBE > Moorea
SBE26 houlographe 1280
2013-10-22 07:59:34
CRIOBE > Moorea
CRIOBE > Tiahura
FLNTUS fluo turb 1948
2013-10-22 09:19:39
CRIOBE > Moorea
CRIOBE > Tiahura
SBE16plusV2 6167
2013-10-22 09:20:39
CRIOBE > Moorea
CRIOBE > Tiahura
SBE18 pH 0696
2013-10-22 09:22:46
CRIOBE > Moorea
CRIOBE > Tiahura
SBE43 Oxygen 1868
2013-10-22 09:23:18
CRIOBE > Moorea
CRIOBE > Tiahura
SBE5P Pompe 4997
2013-11-26 08:59:43
CRIOBE > Moorea
CRIOBE > Tiahura
SBE26 houlographe 1303 - perdue
2014-02-20 11:29:52
CRIOBE > Moorea
CRIOBE > Tiahura
SBE18 pH 0784
2014-02-20 11:31:56
CRIOBE > Tiahura
CRIOBE > Moorea
SBE18 pH 0696
2014-02-20 11:34:08
CRIOBE > Moorea
CRIOBE > Tiahura
SBE43 Oxygen 1408
2014-02-20 11:35:05
CRIOBE > Tiahura
CRIOBE > Moorea
SBE43 Oxygen 1868
2014-02-20 11:35:50
CRIOBE > Moorea
CRIOBE > Tiahura
SBE5P Pompe 6097
2014-02-20 11:37:07
CRIOBE > Tiahura
CRIOBE > Moorea
SBE5P Pompe 4997
2014-07-08 22:45:42
CRIOBE > Tiahura
CRIOBE > Moorea
FLNTUS fluo turb 1948
2014-07-08 22:48:07
CRIOBE > Tiahura
CRIOBE > Moorea
SBE16plusV2 6167
2014-07-08 22:49:33
CRIOBE > Tiahura
CRIOBE > Moorea
SBE18 pH 0784
2014-07-08 22:51:03
CRIOBE > Tiahura
CRIOBE > Moorea
SBE43 Oxygen 1408
2014-07-08 22:51:37
CRIOBE > Tiahura
CRIOBE > Moorea
SBE5P Pompe 6097
2014-08-11 23:09:03
CRIOBE > Moorea
CRIOBE > Tiahura
SBE18 pH 0656
2014-08-11 23:10:24
CRIOBE > Moorea
CRIOBE > Tiahura
SBE43 Oxygen 1610
2014-08-11 23:10:57
CRIOBE > Moorea
CRIOBE > Tiahura
SBE16plusV2 6595
2014-08-12 00:32:42
CRIOBE > Tiahura
CRIOBE > Moorea
SBE18 pH 0656
2014-08-12 00:39:00
CRIOBE > Moorea
CRIOBE > Tiahura
SBE18 pH 0683
2014-08-14 23:24:56
CRIOBE > Moorea
CRIOBE > Tiahura
SBE5P Pompe 6097
2015-03-09 22:25:28
CRIOBE > Tiahura
CRIOBE > Moorea
SBE18 pH 0683
2015-03-09 22:26:22
CRIOBE > Tiahura
CRIOBE > Moorea
SBE43 Oxygen 1610
2015-03-12 20:59:59
CRIOBE > Moorea
CRIOBE > Tiahura
SBE18 pH 0696
2015-03-12 21:01:12
CRIOBE > Moorea
CRIOBE > Tiahura
SBE43 Oxygen 1409
2015-03-12 21:12:15
CRIOBE > Moorea
CRIOBE > Tiahura
FLNTUS fluo turb 1936
2015-09-10 02:22:52
CRIOBE > Moorea
CRIOBE > Tiahura
SBE26 houlographe 1190
2015-09-17 03:27:50
CRIOBE > Tiahura
CRIOBE > Moorea
SBE26 houlographe 1303 - perdue
2015-09-17 03:28:11
CRIOBE > Tiahura
CRIOBE > Moorea
FLNTUS fluo turb 1936
2015-09-17 03:28:26
CRIOBE > Tiahura
CRIOBE > Moorea
SBE18 pH 0696
2015-09-17 03:28:38
CRIOBE > Tiahura
CRIOBE > Moorea
SBE5P Pompe 6097
2015-09-17 03:28:53
CRIOBE > Tiahura
CRIOBE > Moorea
SBE16plusV2 6595
2015-09-17 03:29:09
CRIOBE > Tiahura
CRIOBE > Moorea
SBE43 Oxygen 1409
2015-09-25 20:51:45
Sea Bird
CRIOBE > Tiahura
SBE18 pH 0655
2015-09-25 20:52:27
CRIOBE > Moorea
CRIOBE > Tiahura
SBE43 Oxygen 1610
2015-09-25 20:54:02
CRIOBE > Moorea
CRIOBE > Tiahura
SBE16plusV2 6595
2015-09-25 23:52:11
CRIOBE > Moorea
CRIOBE > Tiahura
FLNTUS fluo turb 1936
2015-09-29 23:53:49
CRIOBE > Moorea
CRIOBE > Tiahura
SBE5P Pompe 6097
2015-10-06 03:09:27
CRIOBE > Moorea
CRIOBE > Tiahura
FLNTUS fluo turb 1948
2015-10-06 03:38:15
CRIOBE > Tiahura
CRIOBE > Moorea
FLNTUS fluo turb 1936
2015-10-06 03:40:03
CRIOBE > Tiahura
CRIOBE > Moorea
SBE16plusV2 6595
2015-10-06 03:49:57
CRIOBE > Moorea
CRIOBE > Tiahura
SBE16plusV2 6051
2016-02-19 03:07:38
CRIOBE > Tiahura
CRIOBE > Moorea > CRIOBE
FLNTUS fluo turb 1948
2016-02-19 03:07:47
CRIOBE > Tiahura
CRIOBE > Moorea > CRIOBE
SBE16plusV2 6051
2016-02-19 03:08:00
CRIOBE > Tiahura
CRIOBE > Moorea > CRIOBE
SBE18 pH 0655
2016-02-19 03:08:09
CRIOBE > Tiahura
CRIOBE > Moorea > CRIOBE
SBE43 Oxygen 1610
2016-02-19 03:08:17
CRIOBE > Tiahura
CRIOBE > Moorea > CRIOBE
SBE5P Pompe 6097
2016-07-13 22:33:53
CRIOBE > Moorea > CRIOBE
CRIOBE > Tiahura
SBE43 Oxygen 1408
2016-07-13 22:34:07
CRIOBE > Moorea
CRIOBE > Tiahura
SBE18 pH 0664
2016-07-13 22:35:14
CRIOBE > Moorea > CRIOBE
CRIOBE > Tiahura
SBE16plusV2 6051
2016-07-13 22:36:18
CRIOBE > Moorea > CRIOBE
CRIOBE > Tiahura
SBE5P Pompe 6097
2016-07-13 22:37:01
CRIOBE > Moorea > CRIOBE
CRIOBE > Tiahura
FLNTUS fluo turb 1948
2016-11-10 02:50:34
CRIOBE > Tiahura (9)
CRIOBE > Moorea > CRIOBE (33)
SBE26 houlographe 1190
2016-11-29 00:13:54
CRIOBE > Tiahura (9)
CRIOBE > Moorea > CRIOBE (33)
SBE16plusV2 6051
2016-11-29 00:59:06
CRIOBE > Tiahura (9)
CRIOBE > Moorea > CRIOBE (33)
FLNTUS fluo turb 1948
2016-11-29 00:59:18
CRIOBE > Tiahura (9)
CRIOBE > Moorea > CRIOBE (33)
SBE18 pH 0664
2016-11-29 00:59:31
CRIOBE > Tiahura (9)
CRIOBE > Moorea > CRIOBE (33)
SBE5P Pompe 6097
2016-11-29 01:00:00
CRIOBE > Tiahura (9)
CRIOBE > Moorea > CRIOBE (33)
SBE43 Oxygen 1408
2017-05-24 03:47:10
CRIOBE > Moorea > CRIOBE (33)
CRIOBE > Tiahura (9)
SBE26 houlographe 1186
2018-07-17 20:06:27
CRIOBE (2)
CRIOBE > Tiahura (9)
wave Gauge Blue 17-09-22-001
2019-02-05 20:21:56
CRIOBE > Tiahura (9)
CRIOBE > Moorea > CRIOBE (33)
SBE26 houlographe 1186
2019-02-07 00:35:39
CRIOBE > Tiahura (9)
CRIOBE > Moorea > Moorea Pointe Sud (32)
wave Gauge Blue 17-09-22-001
2019-02-08 01:05:33
CRIOBE > Moorea > CRIOBE (33)
CRIOBE > Tiahura (9)
wave Gauge Blue 17-09-22-002
2019-08-06 02:16:14
CRIOBE > Tiahura (9)
CRIOBE > Moorea > CRIOBE (33)
wave Gauge Blue 17-09-22-002
2019-08-07 01:26:55
CRIOBE > Moorea > CRIOBE (33)
CRIOBE > Tiahura (9)
SBE56Temp 1612
2019-08-07 01:29:40
CRIOBE (2)
CRIOBE > Tiahura (9)
wave Gauge Blue 17-09-22-001
2019-08-27 20:25:07
CRIOBE > Moorea > CRIOBE (33)
CRIOBE > Tiahura (9)
FLNTUSB fluo turb autonomous 4912
2019-08-27 20:25:28
CRIOBE > Moorea > CRIOBE (33)
CRIOBE > Tiahura (9)
SBE37SMP 16670
2019-11-27 23:42:27
CRIOBE > Tiahura (9)
CRIOBE > Moorea > CRIOBE (33)
wave Gauge Blue 17-09-22-001
2019-11-27 23:44:00
CRIOBE > Moorea > CRIOBE (33)
CRIOBE > Tiahura (9)
wave Gauge Blue 19-10-24-001
2019-12-04 20:25:39
CRIOBE > Moorea > CRIOBE (33)
CRIOBE > Tiahura (9)
wave Gauge Blue 17-09-22-002
2020-02-24 22:21:13
CRIOBE > Tiahura (9)
CRIOBE > Moorea > CRIOBE (33)
wave Gauge Blue 17-09-22-002
2020-05-19 03:04:49
CRIOBE > Moorea (1)
CRIOBE > Tiahura (9)
wave Gauge Blue 17-09-22-001
2020-05-26 01:06:57
CRIOBE > Moorea > CRIOBE (33)
CRIOBE > Tiahura (9)
wave Gauge Blue 10-22-01 19-10-23 #005
2020-05-26 01:24:00
CRIOBE > Moorea (1)
CRIOBE > Tiahura (9)
SBE56Temp 1614
2020-05-26 01:51:23
CRIOBE > Moorea > CRIOBE (33)
CRIOBE > Tiahura (9)
SBE26 houlographe 1218
2020-05-27 02:39:47
CRIOBE > Tiahura (9)
CRIOBE > Moorea > CRIOBE (33)
wave Gauge Blue 17-09-22-001
2020-05-27 02:47:52
CRIOBE > Tiahura (9)
CRIOBE > Moorea > CRIOBE (33)
FLNTUSB fluo turb autonomous 4912
2020-05-28 00:54:53
CRIOBE > Moorea > CRIOBE (33)
CRIOBE > Tiahura (9)
wave Gauge Blue 17-09-22-001
2020-05-28 01:16:53
CRIOBE > Tiahura (9)
CRIOBE > Moorea > CRIOBE (33)
wave Gauge Blue 19-10-24-001
2020-07-07 01:01:04
CRIOBE > Tiahura (9)
CRIOBE > Moorea > CRIOBE (33)
SBE56Temp 1612
2020-07-21 03:34:01
CRIOBE > Moorea > CRIOBE (33)
CRIOBE > Tiahura (9)
FLNTUSB fluo turb autonomous 4912
2020-07-25 00:37:28
CRIOBE > Tiahura (9)
CRIOBE > Moorea > CRIOBE (33)
SBE37SMP 16670
2020-08-24 22:47:45
CRIOBE > Tiahura (9)
CRIOBE > Tiahura > 30m (42)
wave Gauge Blue 10-22-01 19-10-23 #005
2020-08-24 22:48:00
CRIOBE > Tiahura (9)
CRIOBE > Tiahura > 13m (43)
wave Gauge Blue 17-09-22-001
2020-10-02 03:06:36
CRIOBE > Tiahura > 30m (42)
CRIOBE > Moorea > CRIOBE (33)
wave Gauge Blue 10-22-01 19-10-23 #005
2020-10-02 03:09:01
CRIOBE > Tiahura > 13m (43)
CRIOBE > Moorea > CRIOBE (33)
wave Gauge Blue 17-09-22-001
2020-10-21 01:06:27
CRIOBE > Moorea > CRIOBE (33)
CRIOBE > Tiahura > 13m (43)
wave Gauge Blue 10-22-01 19-10-23 #004
2020-10-21 01:08:00
CRIOBE > Moorea > CRIOBE (33)
CRIOBE > Tiahura > 30m (42)
wave Gauge Blue 17-09-22-001
2021-03-23 00:22:08
CRIOBE > Moorea > CRIOBE (33)
CRIOBE > Tiahura > 13m (43)
wave Gauge Blue 20-04-07-001
2021-03-23 00:38:04
CRIOBE > Moorea > CRIOBE (33)
CRIOBE > Tiahura > 30m (42)
wave Gauge Blue 20-04-07-002
2021-03-25 00:34:52
CRIOBE > Tiahura > 13m (43)
CRIOBE > Moorea > CRIOBE (33)
wave Gauge Blue 10-22-01 19-10-23 #004
2021-03-25 00:55:09
CRIOBE > Tiahura > 30m (42)
CRIOBE > Moorea > CRIOBE (33)
wave Gauge Blue 17-09-22-001
2021-03-25 01:12:25
CRIOBE > Tiahura > 13m (43)
CRIOBE > Moorea > CRIOBE (33)
wave Gauge Blue 20-04-07-001
2021-03-25 01:18:58
CRIOBE > Moorea > CRIOBE (33)
CRIOBE > Tiahura > 13m (43)
wave Gauge Blue 20-04-07-001
2021-10-13 01:17:10
CRIOBE > Moorea > CRIOBE (33)
CRIOBE > Tiahura > 30m (42)
wave Gauge Blue 17-09-22-001
2021-10-14 23:05:01
CRIOBE > Tiahura > 30m (42)
CRIOBE > Moorea > CRIOBE (33)
wave Gauge Blue 20-04-07-002
2021-10-14 23:23:02
CRIOBE > Tiahura > 13m (43)
CRIOBE (2)
wave Gauge Blue 20-04-07-001
2022-06-22 22:25:53
CRIOBE > Tiahura > 30m (42)
CRIOBE > Moorea > CRIOBE (33)
wave Gauge Blue 17-09-22-001
2022-06-22 23:08:36
CRIOBE > Moorea > CRIOBE (33)
CRIOBE > Tiahura (9)
wave Gauge Blue 17-09-22-001
2022-09-03 02:54:16
CRIOBE > Moorea > Moorea Pointe Sud (32)
CRIOBE > Tiahura > 30m (42)
wave Gauge Blue 10-22-01 19-10-23 #002
2023-03-03 02:39:01
CRIOBE > Tiahura (9)
CRIOBE > Moorea > Moorea Pointe Sud (32)
wave Gauge Blue 17-09-22-001
2023-03-22 00:50:00
CRIOBE > Moorea > CRIOBE (33)
CRIOBE > Tiahura > 30m (42)
wave Gauge Blue 20-04-07-001
2023-03-24 01:15:37
CRIOBE > Tiahura > 30m (42)
CRIOBE > Moorea > CRIOBE (33)
wave Gauge Blue 10-22-01 19-10-23 #002
blog mission
Changement des thermographes de la pente externe
P3 : ONSET n°9937385
P8 : ONSET n°20200051
P14 : ONSET n°1294065
P25 : ONSET n°20200050
P35 : ONSET n°20200054
P50 : ONSET n°20200048
<more>