Calibration every 4 years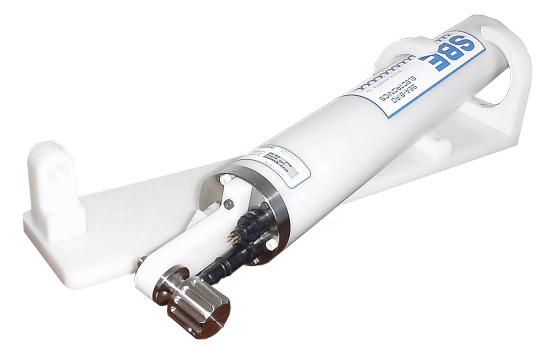 The SBE 26 probe is a wave and tide recorder that measures the ambient pressure thus is fixed at the bottom of the sea bed. In standard, it is delivered with a temperature sensor and a pressure sensor.
Principle
The SBE 26 wave recorder measures the electrical variations generated by pressure variations on a Digiquartz sensor. The measures are stored in the flash memory of the recorder. Once out of the water, the data is uploaded to a computer through the RS 232 connector.
The wave recorder is timely retrieved (around 2 years and a half of battery life). It is built to be placed at relatively shallow depths (maximal depth is 58m) and minimal depth is 25m to minimize the influence of the reef.
Installing the wave recorder
Depths and temperature readings take place every 15 minutes. The wave recorder is attached to a Komacel board using plastic cable ties (like Colson). This rectangular board is fixed at the four corners to four stakes previously burrowed in the sand using a hammer. The board is attached to the four stakes using cable ties.
The probe is installed by scuba divers at about 10 cm above ground. It is important to measure the distance to the ground for later use in computations.

Despite the GPS coordinates, the probe is not deployed using a stable geodisic reference, very useful if one wanted to study the elevation of the sea level. The depth is verified using a dive computer (precision +/- 1m-).

There is no control of the probe (levelling, depth in time, etc.) during the whole period of recording. However, it is the same probe that takes the measures during the whole period.

Retrieving the probe is also done by scuba diving. Only the cable ties linking the board to the stakes are cut and the board with the probe is taken back to the surface.

The data is then downloaded using the dedicated SeatermV2 software (Seasoft for Waves) regularly updated by Sea-Bird. The extraction of the data is done using the procedure found in the manual.

During the post-processing, the atmospherical data has to be given through a ".bp" file with the format MM/DD/YY hh:mm:ss 1013.5. The last number being the atmospherical pressure in hectopascal. The ".bp" file can be created / edited using a simple text editor.
Studied sites