Localisation
The transects and the thermometer are at -10 meters depth on the outer slope.
20°41'25"S 143°03'54"W (conversion DM/DMS). The GPS point was taken 5m West of the East stake. This point matches the "Home Base" of the 100 Island Challenge protocol.
The wave probe is at -27 meters.
Local partner : Nukutepipi
Program
The Polynesia Mana since 2019
Year
Rugosity parallel
Rugosity perpendicular
Height SD parallel
Height SD perpendicular
2019
1.6164 (sd 0.1289)
1.5440(sd 0.0749)
0.2180
0.2485
2021
1.5920 (sd 0.1369)
1.5061(sd 0.0656)
0.2054
0.2270
2023
1.6533 (sd 0.0950)
1.6054(sd 0.0988)
0.2234
0.2449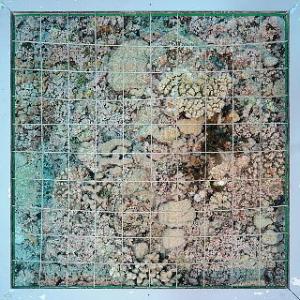 Quadrat n°10 on the outer slope of Nukutepipi, in 2019/CRIOBE
3D reconstruction of the site (2019)/CRIOBE
3D reconstruction of the site (2021)/CRIOBE

Click here to access an interactive video to compare 2019 and 2021 (warning 220MB of video)
---
Historique Nukutepipi
Données brutes de suivi des équipements. Les dates affichées correspondent à la date de modification du fichier informatique en laboratoire.
Date
Departure
Arrival
Instrument
2019-02-26 02:08:04
CRIOBE > Moorea > CRIOBE (33)
CRIOBE > Nukutepipi (40)
SBE26 houlographe 1434
2021-03-08 09:19:37
CRIOBE > Moorea > CRIOBE (33)
CRIOBE > Nukutepipi (40)
SBE26 houlographe 1186
2021-03-09 07:06:12
CRIOBE > Nukutepipi (40)
CRIOBE > Moorea > CRIOBE (33)
SBE26 houlographe 1186
2021-03-09 07:09:04
CRIOBE > Nukutepipi (40)
CRIOBE > Moorea > CRIOBE (33)
SBE26 houlographe 1434
2021-03-09 07:09:15
CRIOBE > Moorea > CRIOBE (33)
CRIOBE > Nukutepipi (40)
SBE26 houlographe 1434
2023-04-17 21:09:24
CRIOBE > Nukutepipi (40)
CRIOBE > Moorea > CRIOBE (33)
SBE26 houlographe 1434
2023-04-17 21:09:35
CRIOBE > Moorea > CRIOBE (33)
CRIOBE > Nukutepipi (40)
SBE26 houlographe 1434
Mars 2019 : mise en place des transects-couloirs, photo-quadrat et nouveau protocole de suivi 100 Island Challenge
Thermographe marque n°numSerie installé jusqu'en 2021
<more>