Access to data:
The marine spatial planning,
Plan de Gestion de l'Espace Maritime
(
PGEM
) was set up in 2004 and included 8 Marine Protected Areas on zones ranging from the shoreline to the outer slope. In 2017, a revision process was launched in consultation with local and national administrative departments, scientists and lagoon users. The outcome of this review process is a new set of regulations that will be applicable from September 2021. In this context, the restrictions on resource harvesting have been qualitatively modified, but the spatial distribution of regulated fishing areas has not been significantly altered. It has therefore been decided to maintain the same sampling strategy for resource assessment (fish counts) and habitat assessment (benthos and substrate counts). However, a monitoring station has been added in the only new restricted collection area in the south of the island, in Atiha lagoon. Results for this new site will be presented later, with a longer timeframe.

The Service d'Observation added five control areas.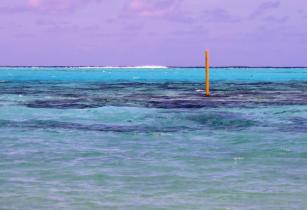 Eight MPAs :
North : Tiahura, Pihaena and Aroa
West : Taotaha and Tetaiuo
East : Nuarei, Ahi and Maatea
North : Entre deux baies (E2B) (between the 2 bays)
East : Temae and Afareaitu
West : Haapiti and Gendron
The chosen marine areas span from the shore to 70 meters depth on the outer slopes. Each marine area is divided in three zones: one fringring reef zone, one barrier reef zone and a zone on the outer slope at - 10 meters.
117 surveyed stations
In each marine area, 3 zones are described a) on the border of the fringing reef on the side of the channel or when there is none, at the frontier between fringing and barrier reef, b) on the barrier reef at 200m away from the breaking waves of the reef crest, c) on the outer slope by 10m depth.
13 Marine Areas x 3 zones for each marine area (i.e. 39 zones) x 3 stations per zone (replicates) amounts to 117 stations. Each station is materialised by a non permanent transect (25m straight line).
In each station, five "descriptive" communities are surveyed along the transect:
MPA substrate cover
,
MPA fish assessment
,
MPA benthic invertebrates
.
Literature references
Horta, Bárbara, Joachim Claudet, Gustavo Franco, Karim Erzini, Anthony Caro, and Emanuel J Gonçalves. 2016. "A regulation-based classification system for Marine Protected Areas ( MPAs )." Marine Policy 72: 192–198.
Horta-e-Costa-et-al.2016.pdf
---